By G.W. Schulz
The 26-year saga of a man in Oklahoma who was sentenced to die for arranging the murder of his boss gripped local and national headlines as the case ascended all the way to the U.S. Supreme Court in 2023. 
As Richard Glossip's bid for relief reached the nation's highest court, it also clashed with our efforts in an unrelated case to have Oklahoma inmate Glynn Ray Simmons exonerated of a 1974 killing that occurred during a liquor-store robbery. 
Throughout the spring and summer of 2023, Oklahoma County District Judge Amy Palumbo in our case weighed a new pleading from Norwood.Law on behalf of our client, Simmons. We were asking Judge Palumbo to declare Simmons, who has spent 48 years in prison, "actually innocent" of murdering a liquor-store clerk. "Actual innocence" means that prosecutors did not prove a defendant was guilty beyond a reasonable doubt even where a jury voted to convict. 
Judge Palumbo in July of 2023 stopped short of exonerating Simmons and instead called for a new trial. Informing her decision was an acknowledgment earlier this year by prosecutors at the Oklahoma County District Attorney's Office that Simmons's 1975 trial was conducted unfairly. They now admit that critical police records in the case were wrongly withheld from Simmons for 20 years. Those records contained damning information about suspect lineups from the 1975 police investigation and raised doubts about who the star witness in the case identified as the perpetrators.
We had hoped Judge Palumbo would absolve Simmons of guilt in the case entirely and obviate the need for a new trial by declaring him "actually innocent" of the crime through "clear and convincing evidence." With a new trial, Simmons at least has a new opportunity to persuade a jury that he's innocent of murder. If Simmons prevails, he becomes eligible to enter the National Registry of Exonerations as the longest-serving wrongfully convicted man in recorded U.S. history. 
In the meantime, the death-penalty case of Richard Glossip continues to draw worldwide attention and serve as a lightning rod of controversy that's dividing Republicans in Oklahoma.
As she considered the fate of our client, Judge Palumbo issued an order on May 3, 2023, pointing out that the Oklahoma Court of Criminal Appeals had recently denied an application for post-conviction relief in the Glossip case that was similar to our own. That denial was why Glossip's attorneys had proceeded with his case to the U.S. Supreme Court. 
Judge Palumbo wanted our firm and prosecutors in Oklahoma City to submit briefs outlining whether the Glossip denial had changed our positions or strategies in the case of Glynn Simmons. The answer wasn't a simple one, and Palumbo's order didn't look good for Simmons. It suggested she might be leaning in favor of the Glossip denial. Her order instructed both sides to:
"Submit a brief that specifically addresses the Glossip opinion and how it impacts the relief previously requested in this case, how this case differs factually and fundamentally from Glossip, and the court's available remedies in light of Glossip." 
The Glossip and Simmons cases align in some areas and not in others. Both stories begin with murders committed in the Oklahoma City area. Keep reading below to learn more.
Has the government charged you with a crime? Don't wait to act. If the time comes that you need our help, contact Norwood.Law for a free consultation at 918-582-6464. If it feels like the world is against you, we'll be your advocates and tell your side of the story. And it's not just criminal law we practice. Caught up in a family, business, or personal-injury dispute? Norwood.Law will bring the same commitment and skill to you that we did to the wrongful conviction of Glynn Simmons. 
Where do they align?
The cases of Glynn Simmons and Richard Glossip roughly line up with one another in some key areas:
No physical evidence has directly tied either man to the underlying murder.

Prosecutors have conceded in both cases that the respective trials were conducted unfairly and that key information was wrongly withheld from defense attorneys.

The case against Glossip hinges in large part on a witness who committed the actual murder. Authorities in the Simmons case relied almost entirely on a single eyewitness who glimpsed at him and his co-defendant, Don Roberts, for just a few seconds.

Defense attorneys for Glossip and Simmons have been criticized for inadequately representing them.

The Oklahoma Pardon and Parole Board has denied relief to both men with 2-2 tie votes after a fifth board member did not participate.
So how are the two cases different? While Glossip remains on death row, Simmon's death sentence was amended to life in prison during the 1970s due to a U.S. Supreme Court ruling from that time. Also, different areas of federal and state law may apply in each case for determining whether relief should be granted by the courts.  
In the case of Glossip, no one contends that he committed the murder itself. But two juries now have convicted him of paying someone else to kill his boss, the owner of a motel where Glossip worked in Oklahoma City. Circumstantial evidence casts suspicion on Glossip about what he knew and what he told investigators and witnesses at the motel in the wake of the killing. 
Tough on crime
In tough-on-crime Oklahoma made up largely of red-state Republicans who support law and order, Richard Glossip has attracted an unlikely team of supporters from across the political spectrum.
An ad-hoc committee of elected legislators at the Oklahoma statehouse started forming in recent years to begin publicly questioning the conviction and planned execution of Richard Glossip. Most of the committee's members were Republicans, many of whom supported the death penalty. But questions surrounding the Glossip prosecution had raised doubts in their minds about whether he received a fair trial, whether he should be executed, and whether he was even guilty. The committee's membership eventually grew to over 60 lawmakers.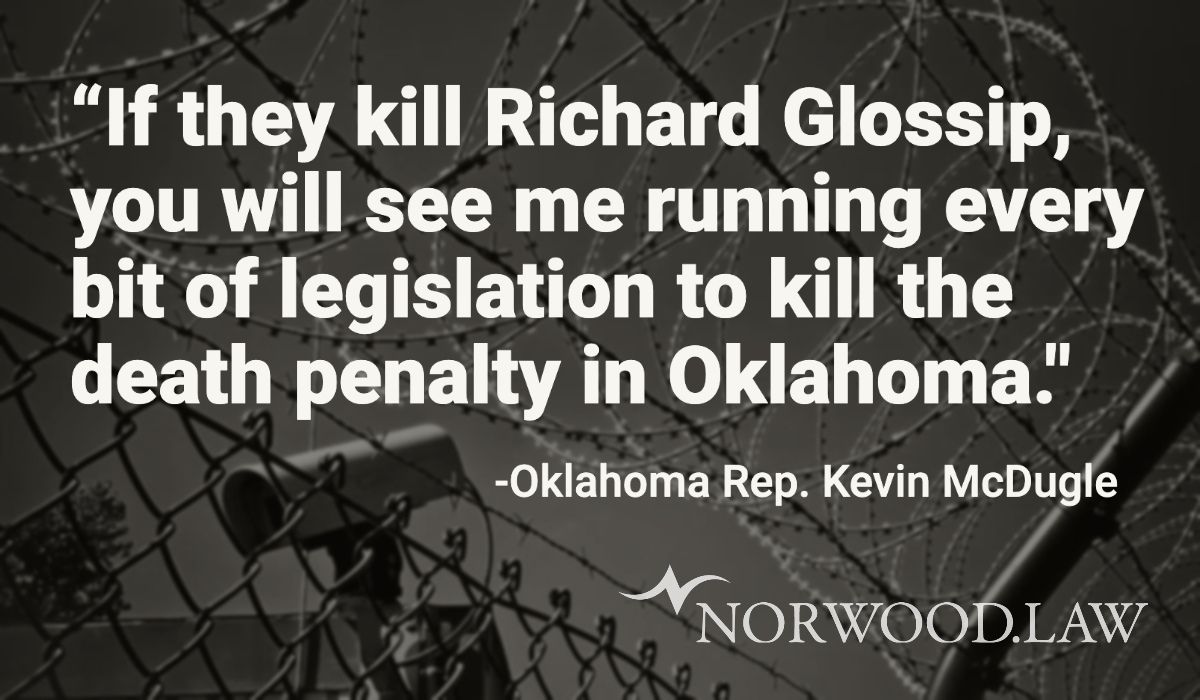 They first sent a letter in 2021 to the governor and the Oklahoma Pardon and Parole Board asking them to launch an investigation into the Glossip case. "Killing Richard Glossip without certainty of his guilt will erode public trust, not only in capital punishment, but in the integrity and fairness of the entire Oklahoma criminal justice system." The letter ultimately failed to spark an inquiry, but the committee pushed ahead.
A leader of the group emerged in the form of Republican Rep. Kevin McDugle of Broken Arrow, Oklahoma, who generally supports the death penalty for punishing criminals. But McDugle came to steadfastly believe in Glossip's innocence and has communicated his position to the media at just about every opportunity. He was influenced in part by a 2017 docuseries called "Killing Richard Glossip" that raised doubts about the case. 
McDugle told Tulsa Public Radio in April of 2023 that the docuseries is no doubt flavored with Hollywood hype. "But even if 10 percent of what they're saying is true, we really could have a guy in Oklahoma that's innocent on death row. … And that's when I started digging in a little bit more."

A month after the Tulsa Public Radio interview, McDugle made even more head-turning remarks during an interview with the Tulsa World: "If they kill Richard Glossip, you will see me running every bit of legislation to kill the death penalty in Oklahoma, because if we can't trust the system, then we have to vacate what we're doing. We have to be able to trust the system."
Then that same month the Glossip case made its way to the U.S. Supreme Court where the justices halted the execution until they could take a closer look. In one of several moves that astounded observers, Oklahoma's newly elected Republican Attorney General Gentner Drummond supported Glossip by filing a motion with the court asking that his conviction and sentence be vacated. 
In the motion, Drummond called Glossip's two trials "unfair and unreliable," partly because critical information about the investigation and prosecution were never presented to the juries and defense. State attorneys general typically advocate for victims and the state itself rather than criminal defendants.
Meanwhile, two recent independent probes by outside legal consultancies have shed new light on the Glossip case. One of the reviews clocks in at 343 pages. It was conducted by the law firm Reed Smith LLP and requested in 2022 by McDugle and his committee of Oklahoma state lawmakers who supported Glossip. The second analysis was sought by Attorney General Drummond almost immediately after he took office in early 2023.
Glossip's case has drawn support from celebrities and public figures along the way. The list includes psychologist and TV personality Dr. Phil, who was born in Oklahoma. With him is Sister Helen Prejean, whose life of anti-death penalty advocacy was depicted in the 1995 film "Dead Man Walking." Prejean was played by the actor Susan Sarandon who herself has been a Glossip supporter. Other Glossip backers are more of a surprise: the late conservative U.S. senator from Oklahoma Tom Coburn and the legendary former University of Oklahoma football coach Barry Switzer.

Business magnate Richard Branson took out a 2015 ad in the Oklahoman newspaper opposing Glossip's death sentence. The ad appeared just before Glossip came perilously close to execution on one of several occasions. Each time, Glossip has been rescued when stays were granted by courts or governors.
The family of the victim in Glossip's case maintains that he is guilty. In fact, skeptics of Glossip's innocence point to testimony from co-workers at the motel who said that his behavior was peculiar at the time of the killing. Glossip had reportedly begun selling his possessions. He also had nearly $1,800 on him that investigators would come to believe was taken from the victim. And Glossip told conflicting stories about his knowledge of the murder and where he'd been when it occurred.   
The sister of the victim, Alana Mileto, told the Tulsa World in 2015: ​​"Over these many years our family has endured all manner of pain as a result of the death of Barry [Van Treese]. … We have a right as a family and as citizens of the United States of America to expect justice to be served."
Night at the motel
On the night of Jan. 7, 1997, Barry Van Treese arrived at the Best Budget Inn that he owned on Council Road in Oklahoma City. After meeting with the motel's manager, Richard Glossip, Van Treese began to conduct his usual accounting and payroll. The motel's maintenance man, Justin Sneed, had been receiving a free room at the motel in exchange for making minor repairs.
Van Treese owed considerable sums of money to state and federal tax authorities. So he was known for keeping large amounts of cash on him and away from his bank account where the government could get to it. Later on in the evening, Van Treese decided to get some sleep in room 102 of the motel.
Handyman Sneed at some point used a motel master key to enter room 102. Van Treese awoke and a struggle ensued. Sneed overpowered Van Treese and beat him to death with a baseball bat. The fact that Justin Sneed and no one else committed the murder is not in dispute. 
Guests in the adjacent rooms awoke to the sound of pounding through the walls and a window being broken. But they never checked to find out what was going on. Once the melee was over, Sneed stole cash from Van Treese's car and then abandoned it in the parking lot of a nearby credit union.
In the morning, Sneed allegedly told Glossip what he had done to Van Treese. According to authorities, there was a major delay between Glossip finding out what happened to Van Treese and police discovering that Van Treese was dead. Glossip never contacted the authorities and later said he didn't believe Sneed's confession at the time. 
After police eventually found the body of Van Treese, Glossip then disclosed to them that Sneed might be behind the murder. Glossip's own story to police seemed hazy and kept changing. Motel employees said his behavior was strange around the time of the murder.
Yet no concrete physical evidence could be found tying Glossip to Van Treese's bludgeoning. Police nonetheless arrested Glossip several days prior to Sneed as they formed a theory that Glossip was the true ringleader of the killing. Fueling their suspicions in part was $1,757 in cash Glossip had on him at the time of his arrest that they theorized came from Van Treese's car.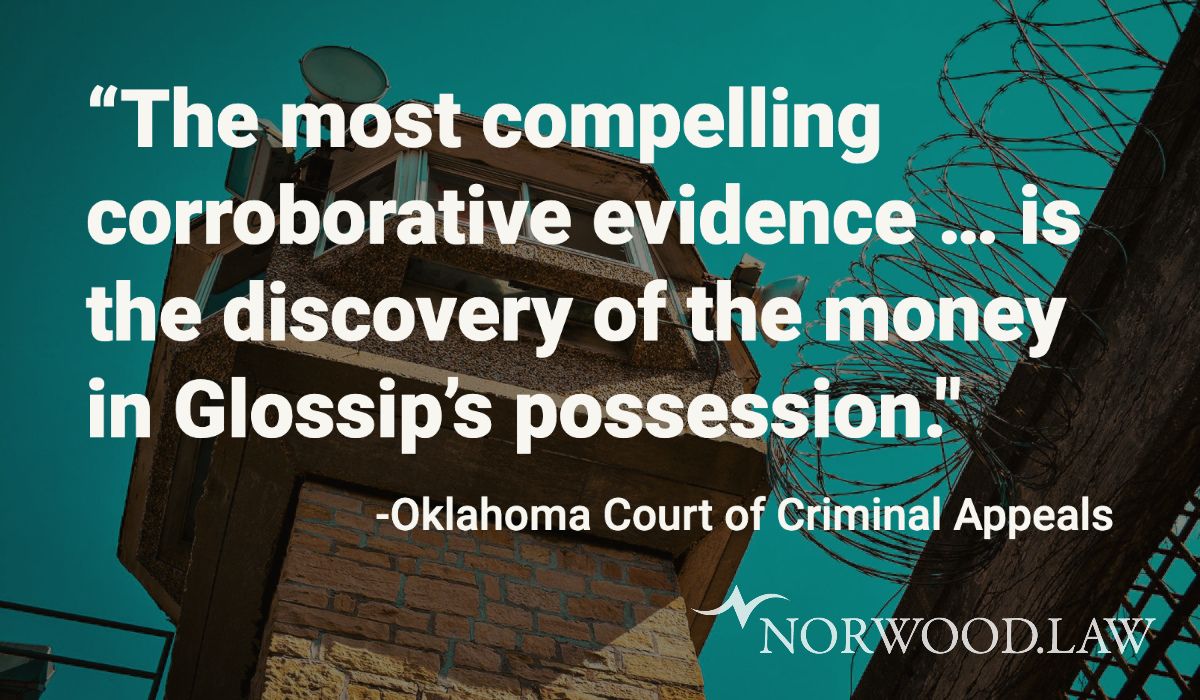 After Justin Sneed was arrested, he and Glossip were charged with first-degree murder. During interrogations, police told Sneed they thought he couldn't have acted alone. They repeatedly mentioned Glossip's name and said that Glossip in his own conversations with police was trying to place all of the blame squarely on Sneed to save himself. 
Interrogation transcripts, according to law firm Reed Smith's report on the case, show detectives seeming to plant the idea in Sneed's head that Glossip was the real brains behind a murder-for-hire scheme. Despite prosecutors coming to rely heavily on Sneed's ultimate confession, defense attorneys for Glossip never played tape for the jury at his later trial of police interrogating Sneed. 
Deal to avoid death
Richard Glossip was 33 at the time of his arrest, had no significant criminal record, and was not present during the killing itself. But in exchange for a promise from prosecutors of not being sentenced to death, Justin Sneed – who was then 19 and a reported heavy user of cocaine and methamphetamines – testified that Glossip had promised to pay him to commit the killing of Barry Van Treese. In the hours after the murder, Sneed told authorities, he and Glossip had split a sum of money taken from Van Treese's car.
Glossip's motive according to prosecutors later at trial? He believed Van Treese was going to fire him from the motel for allowing it to fall into disrepair and for embezzling thousands of dollars. 
In July of 1998, Glossip was convicted at his first trial and sentenced to die, even though the average sentence in Oklahoma at the time for first-degree murder was 32 years. Three years after that and before the state could execute him, Glossip and his legal team persuaded the Oklahoma Court of Criminal Appeals to overturn the conviction and grant a new trial. 
In its decision, the appeals court cited a failure by defense attorneys to adequately represent Glossip. The judges pointed to the fact that the attorneys never presented the police interrogation video of Justin Sneed to the jury. They also wrote that the corroborating evidence intended to bolster Sneed's testimony against Glossip was "extremely weak."  
However, Glossip was dealt a major blow when a fresh jury considered the case a second time in 2004 and voted to convict. Glossip again found himself facing execution. After the second jury's decision, the Oklahoma Court of Criminal Appeals in 2007 this time affirmed the conviction. The judges cited the cash taken from Van Treese's car and appearance that Glossip had told Sneed where to find it. Wrote the majority:
"The most compelling corroborative evidence … is the discovery of the money in Glossip's possession. There was no evidence that Sneed had independent knowledge of the money under the seat of the car. Glossip's actions after the murder also shed light on his guilt. … We find no error warranting reversal of Glossip's conviction or sentence of death for first-degree murder."
On the other hand, financial records that may have refuted the claims of embezzlement and worry from Glossip over being terminated were destroyed by the Oklahoma City Police Department in 1999, according to Reed Smith in its sprawling investigation of the case. Officials said that the destruction was routine house cleaning. 
Either way, Reed Smith believes the Van Treese murder was likely the result of a robbery gone bad. The lead police detective in the investigation said years later that Sneed probably didn't intend to commit murder but got carried away when Van Treese fought back. The big picture, wrote Reed Smith in its report, is that the second trial in 2004 "cannot be relied on to support a murder‐for‐hire conviction. Nor can it provide a basis for the government to take the life of Richard E. Glossip." 
The many lives of Richard Glossip
Glossip's road to the U.S. Supreme Court today has been a bumpy one. Since 2004 following his second jury conviction, the Oklahoma Court of Criminal Appeals has rejected attempts by Glossip to have the case reconsidered seven times. Federal district and appeals courts have done the same twice. The Oklahoma Pardon and Parole Board has turned him away at least twice. And the U.S. Supreme Court itself has denied his entreaties three times before now.  
Then as execution loomed in 2015, the Oklahoma Court of Criminal Appeals granted a small window of opportunity. Attorneys for Glossip argued among other things that detectives during the investigation had interrogated Justin Sneed in such a way that a "false and unreliable" confession was inevitable. 
They argued Sneed wasn't the "meek youngster" portrayed at trial but a "thieving, methamphetamine addict" who stole from rooms and cars at the motel. Sneed, they said, had even bragged about ensnaring Glossip in the case to avoid the death penalty for himself. The judges at the Oklahoma criminal appeals court were unmoved, however, and after a brief review, Glossip's petition for relief was once again denied. 
Before the U.S. Supreme Court more recently decided to take up the case, Glossip on several occasions had been only weeks, days, or hours away from execution when the courts or governor granted a temporary stay. According to The Frontier nonprofit news site, Glossip has been scheduled to die nine times and had three last meals.
The executions of Glossip and other death-row inmates were halted for years beginning in 2015 over foul-ups with the state's use of lethal-injection drugs. Litigation during this time swirled around how the killings should be carried out. Oklahoma actually has a law in its statutes that allows for the alternative use of firing squads, although it's never been used in any documented executions. Voters also decided overwhelmingly in 2016 to protect the death penalty in the state's constitution by preventing it from ever being classified as cruel and unusual punishment.
Then as planned executions resumed in Oklahoma, Glossip's own execution was reset for Sept. 22, 2022. With hardly a month to spare, Oklahoma Republican Gov. Kevin Stitt granted Glossip a reprieve. Then the governor granted another on Nov. 2. Despite Stitt's acts of mercy, the Oklahoma Court of Criminal Appeals in November denied two new applications for post-conviction relief saying in part that the judges believed the testimony of Justin Sneed was sufficiently reliable. Yet another application for relief was denied on April 20, 2023. 
After having now twice postponed Glossip's executions, Stitt allowed his death sentence to proceed. That meant once again calling upon the highest court in the land. The justices of the U.S. Supreme Court this time chose to take up his case, and Glossip was granted another stay on the eve of execution. This time there was a plot twist, however: Oklahoma's top cop responsible for prosecuting criminals was defending one by calling for Glossip's conviction and sentencing to be thrown out. 
A new top cop
When a major new development for Glossip occurred in 2022, it stunned legal and political watchers. The office of Oklahoma's attorney general is responsible for representing the state in legal matters. It also advocates for crime victims and their families opposite of defendants and their lawyers. Attorneys general are sometimes called a state's "top cop," and what they don't ordinarily do is advocate for convicted criminals.
But that's what Republican Oklahoma Attorney General Gentner Drummond did after triumphing over incumbent Republican John O'Connor in a 2022 primary election. The issue that has perhaps come to distinguish Drummond most from his predecessor is Richard Glossip.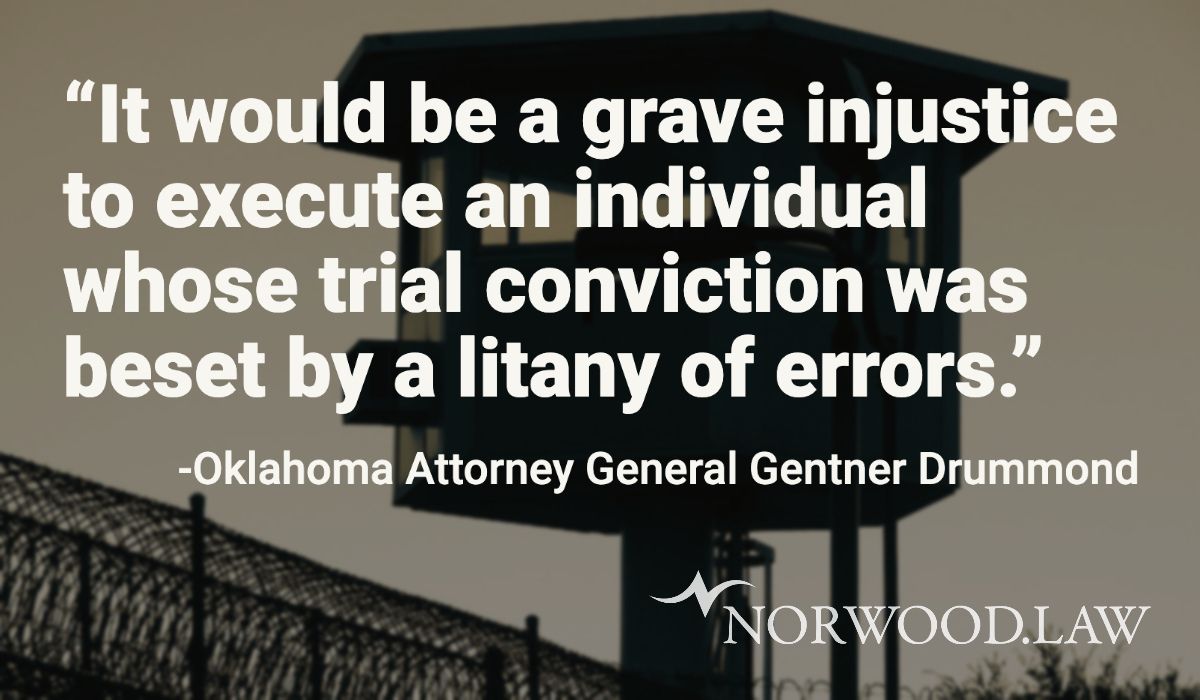 During an at-times contentious campaign, O'Connor sneered that Drummond was out of touch with conservative voters. While in office, O'Connor had penned a letter to state Rep. McDugle and the ad-hoc committee of Oklahoma lawmakers who supported Glossip. He wrote that state and federal appeals courts since Glossip's second trial had thoroughly examined the case and upheld the conviction and death sentence. O'Connor rejected calls for another hearing and urged the state to proceed with the execution.
Upon entering office in January of 2023, Drummond dramatically reversed course. 
First, he discovered that his new office possessed a box of materials from the case that was never turned over to Glossip and his attorneys. It included evidence that key witness Justin Sneed had been diagnosed with a serious psychiatric condition at the time of his 1997 arrest. Glossip's attorneys had never been given a chance to impeach Sneed with this evidence along with knowledge of his drug abuse.
Next, Drummond requested a new analysis of the case independent of the Reed Smith report that had been compiled on behalf of Glossip's supporters in the Oklahoma legislature. This time the review was conducted by Rex Duncan, a former Republican district attorney and state legislator.
In his report, Duncan stated at the outset that circumstantial evidence and statements made by Glossip to police incriminated him as an accessory to the murder after the fact. In other words, Glossip didn't swing the bat that killed Barry Van Treese. But he knew who did, and he hid what he knew. 
However, Duncan wrote that in his view, Glossip "was deprived of a fair trial in which the state can have confidence in the process and result." While describing himself as pro-death penalty, Duncan added that "I believe the numerous trial and appellate defects throughout the history of this case can be remedied only by remand for a new trial."
Upon receiving Duncan's report, Drummond promptly announced in April of 2023 that he was filing a motion with the Oklahoma Court of Criminal Appeals to vacate Glossip's second conviction. He called Justin Sneed "a compromised witness." But the criminal appeals court denied the motion. 
Then Drummond tried swaying the Oklahoma Pardon and Parole Board and spoke at a hearing on behalf of clemency for Glossip. Joining him in petitioning the board was Vicki Behenna, the current district attorney or "top cop" of Oklahoma County where Barry Van Treese was murdered and where each of Glossip's trials was held. 
Behenna pointed out in a letter to the board that Glossip's case would not today be eligible for the death penalty under her office's current guidelines for such determinations. Drummond added in a statement that "it would be a grave injustice to execute an individual whose trial conviction was beset by a litany of errors."
In a 2-2 vote of the board, Glossip was denied clemency. A fifth board member had recused himself, because his wife was involved with the Glossip case at one time as a prosecutor. 
Highest court in the land
Now Drummond turned to the U.S. Supreme Court. By then, Glossip was just weeks away from his latest scheduled execution. In a May 1, 2023, filing to the high court, Drummond pointed out that the responsibility of prosecutors was not merely to win cases but to see to it that a larger justice was done. He wrote that the conclusions reached in Rex Duncan's report had led the attorney general's office to make "the difficult decision to confess error and support vacating the conviction of Richard Glossip." The Supreme Court issued a stay of execution until it could rule on the case. 
Drummond's push for ethics and fairness in the criminal justice system hasn't been popular with everyone. The conservative former district attorney of Oklahoma County where Glossip's two trials were held, David Prater, retired in 2023. But he has long believed that Glossip was guilty and told the media that "Drummond needs to follow the law and pursue the jury's decision."
Prater accuses Drummond of giving anti-death penalty advocates fodder to attack capital punishment. As evidence of Glossip's guilt, Prater notes how Glossip didn't inform police as soon as he could that Justin Sneed had murdered Van Treese. Prater also mentions the large amount of cash Sneed and Glossip allegedly took from Van Treese's car. 
Tulsa County District Attorney Steve Kunzweiler has expressed similar sentiments about Drummond's handling of the Glossip case: "We have always been reliant on our attorney general's office to zealously advocate on behalf of the victims of those crimes. … The attorney general's actions have certainly given me pause."
Despite the Supreme Court agreeing to take up the matter, Glossip's chances there looked dim. As Vox legal writer Ian Millhiser explained in a story about the case, the current conservative makeup of the court is not enthusiastic about overturning guilty verdicts handed up by juries in state courts. 
The justices, Millhiser wrote, have held in the past that "federal courts should be reluctant to disturb state convictions, even when there is considerable evidence of innocence, because federal decisions upending convictions override 'the state's sovereign power.'"
Our client Glynn Simmons
Like in the Glossip case, there was no solid forensic evidence linking our client, Glynn Simmons, to a deadly 1974 liquor-store robbery in the Oklahoma City suburb of Edmond. During the robbery, a clerk was shot and killed, while a customer was shot in the head but survived.  
At Simmons's trial in 1975, Oklahoma County prosecutors relied almost exclusively on the questionable testimony of a single eyewitness: the customer who was shot and lived. After a three-day trial, Simmons and a co-defendant, both of whom are black, were found guilty by an all-white jury and given the death penalty. Their sentences were later amended to life in prison. 
Simmons had begun a correspondence from behind bars with Norwood.Law after learning about how we helped set a Tulsa man free in 2019, Corey Atchison, who'd been wrongfully convicted and spent 28 years behind bars. By the time of Atchison's release with our help, Glynn Simmons had been locked up for over four decades. We accepted the Simmons case the same year Atchison was let go. 
Meanwhile, there are additional differences between the Simmons and Glossip cases. Our client, for example, has no high-profile celebrity supporters and only infrequently appears in state and local news. The exception is coverage from reporter Ali Meyer of the Oklahoma City TV news station KFOR who has reported on the Simmons case in-depth here, here, and here.
The victims' families in each case also view the two men differently. Janice Smith, a sister of the woman who was killed during the 1974 liquor-store robbery, believes that Glynn Simmons is innocent and deserves to be released. The family of Barry Van Treese, however, strongly believes Glossip is guilty. They say justice has been denied to them for years as the case hung in limbo.
Additionally, Glynn Simmons did not know the star witness in his case the way Richard Glossip knew Justin Sneed through working at the Best Budget Inn. In fact, the witness who identified Simmons as being in the liquor store when she was shot admitted during testimony to having only observed the two perpetrators for just a few seconds. She also identified someone other than Simmons and his co-defendant during earlier police lineups.
And finally, Oklahoma's "top cop," Gentner Drummond, has never campaigned on behalf of Glynn Simmons before the Oklahoma Court of Criminal Appeals, the Oklahoma Pardon and Parole Board, or the U.S. Supreme Court. However, an Oklahoma County prosecutor in Simmons's original trial did years later admit to being "troubled" by the fact that the "evidence was thin" against him.
So for good or ill, the fate of Glynn Simmons, who could become the longest-serving wrongfully convicted man in recorded U.S. history, is indelibly linked to the fate of the highest-profile death penalty defendant in recent Oklahoma history. And when it came time to choose, Dr. Phil picked Richard Glossip for his television show.